Good News Update 104
23 July
2014
For the Future of Our Nation & Our Children
Today is the 4th anniversary of the Canberra Declaration. Dr Graham McLennan, one of the original visionaries, writes, "the Canberra Declaration was launched in the Commonwealth Parliament on Friday the 23rd of July 2010 at a 'God and Government Conference' where the conference members, from all over Australia and some from overseas, stood and read aloud together, the entire Canberra Declaration, declaring it into Parliament House and into the spiritual realm over Australia. Shortly afterwards it was read again outside on the lawns of Parliament House, to the gathered media." At present, just over 50,000 have signed the Declaration.
In celebration of this historic step of faith, we are pleased to announce a campaign to double our current number of signatures by this time next year.
As a new step of faith,
we are aiming to have 100,000 Canberra Declaration signees by our 5th anniversary!
But we can't do this without you!
As never before, we need more people like you who will help to protect Judeo-Christian values in Australia.
For the past four years, God has been using your prayers and your actions in response to the many challenges we have put before you in these Good News Updates. We believe that your involvement is making a crucial difference, as the last line of the Canberra Declaration states, "for the future of this nation, and for our children's future." Thank you!
We also thank God for the four National Days of Prayer and Fasting and the three 40 Days of Prayer and Fastingheld so far. These have all been strategic opportunities to powerfully address the three focus areas of the Canberra Declaration of 'Religious Freedom', 'Marriage and Family' and 'Human Life'.
As we celebrate all that God has done, we want to highlight three things as we work together on this step of faith to double the number of signatures for the Canberra Declaration.
Firstly

, we would like to know more about you as a reader of the regular Good News Updates. At the same time we would like to invite your creative ideas and suggestions for doubling the number of signatures. By completing a new on-line Survey you can share these things with us and tell us how you might be able to help us, volunteer or raise much needed funds to reach our goal together – Click here to do the Survey
Secondly

, we want to thank all those who are part of the Canberra Declaration community. So we are giving all those who complete the Survey a possible seat allocation at one of the advanced screenings before the world premiere of an exciting new Christian movie called 'Freedom

'.

Please click on the video to hear Warwick Marsh's special encouragement to you and see the exciting movie trailer.
Canberra Declaration 'Double Our Numbers Campaign'
with 'Freedom' trailer
These advance screenings, with the producer in attendance at certain sessions, are designed for Christian leaders. Heritage Films recognises that by signing the Canberra Declaration, you are a Christian leader! And so we are thankful for their kind offer of tickets. Space is limited so be quick – Click here to do the Survey.
Thirdly

, to the best three creative ideas or suggestions received through the Survey on how to double our numbers over the next 12 months, we will award a prize of $100 worth of donated books, Bibles and DVDs. For their good ideas, a further 25 people will be awarded a free copy of "Discovering Australia's Christian Heritage

" by Col Stringer.

As you can see we really want to reach our goal to double our numbers and we want to reward you for your help to do it – Click here to do the Survey

.
As we look at ways to double the number of signatures we have been challenged by the example of two secular on-line organisations that have large communities of active members.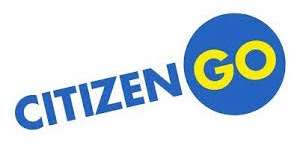 According to their website CitizenGO is "a community of thousands of citizens across the world" that "wants to defend and promote life, family and liberty in an effective way through on-line petitions and actions". From a digital platform CitizenGO "works to ensure that those in power respect human dignity and individual rights." This global community has grown rapidly to 1.3 million active subscribers and they are aiming for 2 million by the end of the year! They are wholly financed through small on-line donations from their subscribers. You can read of a number of amazing victories on their website.
According to their website
GetUp!
is "
one of Australia's largest campaigning communities, with a membership of over 600,000 people
." Their stated aims are
"to build a more progressive Australia and hold politicians to account."
While we might agree with a number of their campaigns, like protecting the Great Barrier Reef or poker machine reform, all is not what it seems. G
etUp!, in support of their aim to build a 'progressive' Australia, are proponents of homosexual 'marriage', abortion, euthanasia and the curtailment of religious freedom.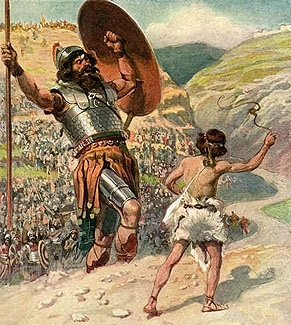 When we consider the 676,000 'members' of GetUp! compared to the 54,000 signees of the Canberra Declaration we might feel overwhelmed. As we so often hear in the secular media, "it is another David and Goliath contest!". This of course refers to the Bible story we find in 1 Samuel chapter 17.
Though Goliath was a formidable warrior and giant, armed with sword, spear and javelin, he was challenged by a bold shepherd boy named David armed only with a sling and a stone. Goliath had the definite advantage against David from a human standpoint. But David ran quickly toward the battle line to meet and defeat Goliath because he had faith in his mighty God.
With this great victory in mind we ask those who have signed the Canberra Declaration to join us in this step of faith to double the number of signatures. It was the apostle Paul who said, "If God is for us, who can be against us? … No, in all these things we are more than conquerors through Him who loved us" (Romans 8:31,37).
Thank you again for all you have done in the past four years. We look forward to reading your feedback in the Survey.
Yours for the future of our nation and our children,
David Rowsome and Warwick Marsh