Good News Update 102
1 July
2014
An Opportunity and an Urgent Call to Prayer
July 1 marks the opportunity for a new start as we begin the second half of the year. There are two significant things beginning today that we would like to alert you to for your prayerful consideration.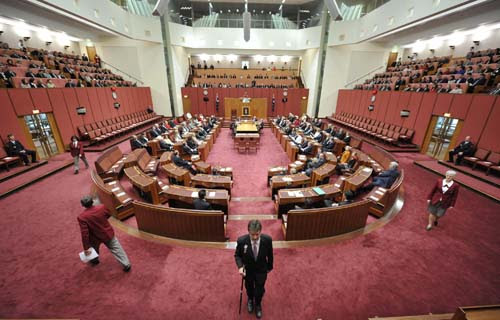 Today, the new senators elected last September commence their six year terms. In the new Senate line-up, the balance of power will no longer be held by the Greens but by a diverse group of senators from several small parties. The party break-down of the new Senate is as follows –
| | |
| --- | --- |
| Party | No. |
| Coalition | 33 |
| Labor | 25 |
| Greens | 10 |
| Palmer United | 3 |
| Democratic Labour | 1 |
| Family First | 1 |
| Independent | 1 |
| Liberal Democratic | 1 |
| Motoring Enthusiast | 1 |
As you can see, the way in which the 8 minor-party Senators vote on any issue will have a huge bearing on the future direction of our nation.
Two vital issues directly related to the Canberra Declaration are presently before the Senate.
1. Recognition of Foreign Marriages Bill 2014
This Bill was proposed by Greens Senator, Sarah Hanson-Young, with a view to recognising homosexual "marriages" that have been legalised overseas. On 15 May 2014, the Senate referred the matter to the Senate Legal and Constitutional Affairs Legislation Committee for an inquiry and report. The Committee is still receiving submissions until 31 July 2014. Please take up this URGENT OPPORTUNITY.
We urge you to write a submission, even if it is only a single sentence, against this legislation (see below for suggestions and the Saltshakers Campaign for more details). Be sure to include your name and address which identifies you as a voting Australian citizen.
Send Your Submission to:
Committee Secretary
Senate Legal and Constitutional Affairs Committee
PO Box 6100
Parliament House
Canberra ACT 2600
or Email legcon.sen@aph.gov.au
or Phone: +61 2 6277 3560
or Fax: +61 2 6277 5794
Even form and campaign letters to this inquiry will be counted but not necessarily published by the committee. This is why it is so important to use your own words. The reporting date will be 3 September 2014.
2. Medical Services (Dying with Dignity) Bill 2014
This Bill presented by Greens Senator, Richard Di Natale, last Tuesday has also been referred to the Legal and Constitutional Affairs Committee for an inquiry. The report date is the 27 October 2014. As of today there are no directions for submissions. Although there doesn't seem to be the numbers for passing this Bill, there is a tactical reason for the Bill's introduction now. Paul Russell, of HOPE, explains this in his latest news reportyesterday.
Senator Ron Boswell introducing Senator Cory Bernardi
in Brisbane on 31 May 2014
As the new Senate commences, we want to acknowledge the long and courageous service of Ron Boswell who retired yesterday. For 31 consecutive years Ron Boswell has been a voice in the Senate for Christian values.
Many times he has stood up in the Senate debating such issues as abortion, marriage and family, religious freedom, pornography and euthanasia.
In his farewell speech in the Senate on 17 June, 2014, he said,
"In the Senate, I have always sought guidance and help from God, and I acknowledge He has always had a guiding hand on my career."
Pray that God will raise up many more senators who will have the courage of their convictions and speak out in support of Christian values.
On that note, we want to alert you to AN URGENT CALL TO PRAYER which begins today.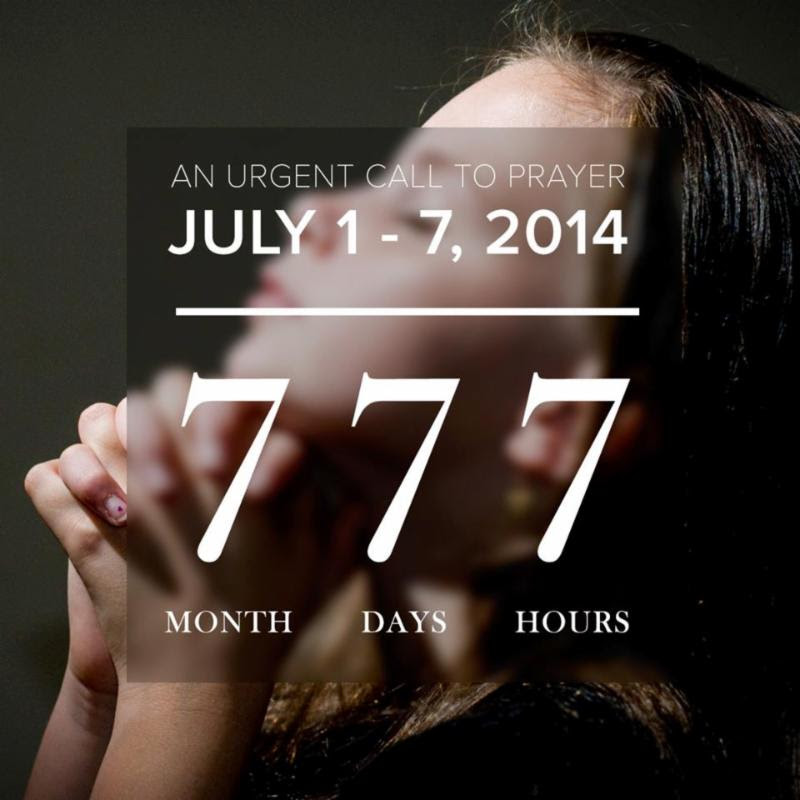 Billy Graham's daughter, Anne Graham Lotz has issued this 777 Urgent Call to Prayer based on the solemn assembly of Joel 2:1,13. It involves 7 days of prayer from 1 July to 7 July It will conclude on 7/7 (7 July) with 7 hours of prayer and fasting.
Read the story of how she received this call in her short blog. This includes a link to her 29 minute message which she delivered as the Honorary Chair for the USA National Day of Prayer on 1 May 2014. In this message she warns of coming judgment as did her father Billy Graham in his 'Last Call to America' on 7 November 2012.
You can sign up now to receive a prayer written by her each day that will help give focus to our worship, repentance and intercession. This call is supported by many prayer leaders from other nations. By joining America, we support three purposes across our planet:
1. For God the Father to restrain, protect, and deliver His people from the evil that has come into our world.
2. For God the Son to be exalted, magnified, and glorified in His Church, in our nation, and in our lives.
3. For God the Holy Spirit to fall on us in a fresh way, compelling the Church to repent of sin and our nation to return to faith in the living God, resulting in a great national spiritual awakening.
Daniel Lim, CEO of International House of Prayer Kansas City, who recently led a Prayer Leaders' Summit for the South Pacific in Sydney, says in an email, "I feel compelled to write to you to explore mobilization of praying people and networks across the ANZAC prayer alliance to pray in response to Anne Graham Lotz' call. At IHOPKC, we will pray for revival and consecration for 8 hours (10 am-6 pm CST) on July 7 and again through our night shift from 10 pm-6 am CST on July 7-8." We, in Australia, can join them live in the IHOPKC Prayer Room.
For more background you might like to watch IHOPKC University President, Allen Hood's challenging (but lengthy) video message on the post called 'Sounding the Alarm'
Please prayerfully consider praying and fasting for America on Monday 7 July with many others around the world as part of the 777 Urgent Call to Prayer.
With the same sense of urgency pray also for our nation, for the Senate and for the protection of Christian values in Australia.
As we respond to the urgent demands of our day, may we be like the apostle Paul "making the most of every opportunity … always giving thanks to God the Father for everything" (Ephesians 5:16,20).
Yours for moving forward in the purposes of God,
David Rowsome and Warwick Marsh
SUBMISSION SUGGESTIONS
Here are some suggestions for writing your submission requesting that the proposed Recognition of Foreign Marriages Bill 2014 be rejected.
Firstly, it is very important to use your own words and to be polite. Please keep in mind that y

our submission can be as short as one sentence.

It is very helpful to have a title or subject line that clearly expresses your position such as – '

Please reject

Recognition of Foreign Marriages Bill 2014'.

Always include your name and address to identify yourself as a voting Australian citizen.
Here are some points to consider in writing your submission –
Recognition of Foreign Marriages Bill 2014

is a thinly veiled or back door attempt to introduce homosexual 'marriage' to

Australia.

Homosexual 'marriage' is in violation of Australian law, which defines marriage in the Marriage Acts as"the union of a man and woman to the exclusion of all others, voluntarily entered into for life".

Homosexual couples already receive by law the same financial and other benefits as heterosexual de facto couples and are free to conduct commitment ceremonies.
Homosexual 'marriage' must not be introduced to Australian society for these reasons –
It is a radical redefinition of the Judeo-Christian institution of marriage that caused Western civilisation to flourish.

It knowingly denies a child of at least one of his or her biological parents and thereby denies a child of being raised and nurtured by both a mother and a father.

It denies a child of the key developmental input of the father and mother as male and female role models thus creating gender confusion.

It will most likely lead to the end of freedom of religion and freedom of speech for those who disagree with homosexual practice as has already been witnessed in different parts of the world.

It will lead to an increase of the number of children being raised by homosexual couples whereas research clearly shows the best environment for children to be raised is the natural family where their biological parents are committed to each other and to their children.

It will most likely lead to further redefinitions of marriage to accommodate other minorities thus adding to the confusion and breakdown of society.

It does nothing to help Australia's unsustainable low fertility rate.
Thank you for making your submission for the protection of marriage and family life in Australia.