30 October 2014

It's been a big week.
No doubt you've heard about the controversy surrounding Bill Shorten's speech to our National Conference.
Thank you for your prayers.
We felt it was important to correct the record after Mr Shorten's speech.
You can watch Lyle Shelton's response, on stage, to Mr Shoten in this short clip from the conference.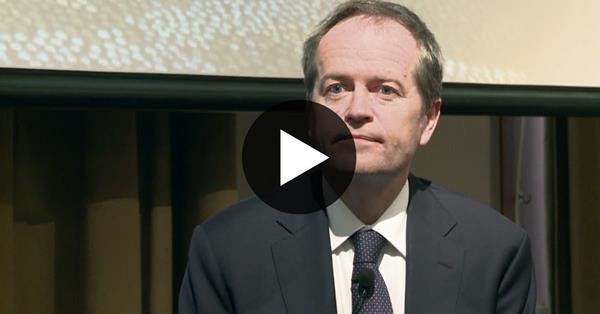 And in this blog, Lyle explains why we invited Bill Shorten to speak at our National Conference.
Thanks again for your support and for your prayers for the conference.
Blessings
The ACL Team

Last chance to be a part of Solidarity Sunday
2 November 2014
Now over 600 churches have signed up to be a part of Solidarity Sunday.
This day will be an important and unique opportunity for Christians to unite in prayer, raise awareness and rejoice in hope as we consider our persecuted brothers and sisters overseas.
Make sure your church doesn't miss out on being a part of this important day.

Why we invited Bill Shorten to our National Conference
By Lyle Shelton
Enormous pressure was put on him to stay away, such is the antipathy to free speech of many of those seeking to redefine marriage.
When this failed, a vicious social media campaign was organised to have the venue, the Hyatt Hotel, cancel our conference.

Why its important to stand in solidarity with the persecuted
South Australian Liberal Senator David Fawcett made an important speech about persecuted religions on Wednesdaynight.
During his speech, Senator Fawcett encouraged people to take part in Solidarity Sunday. And event organised by ACL to unite the church and raise local awareness about global persecution.

ACL welcomes Bill Shorten to 2014 National Conference
MEDIA RELEASE
The Australian Christian Lobby today welcomed Opposition Leader Bill Shorten to its 2014 National Conference in Canberra.
Managing Director Lyle Shelton said ACL was grateful for Mr Shorten's engagement with ACL and the Christian constituency.

Why religious freedom will be the next key battleground
Alliance Defending Freedom's Roger Kiska talks to Daniel Simon about the looming threats to religious freedom.

ACL urges vote for candidates supporting doctors' freedom of conscience
By Dan Flynn
With both the Premier and the Opposition leader giving the green light to a private members bill on doctors' conscience in abortion, the Australian Christian Lobby has urged voters to vote for pro freedom of conscience candidates regardless of party.

Lyle Shelton reflects on the best National Conference ever
Lyle Shelton shares his thoughts about the weekend, including on the controversial comments made by Opposition Leader Bill Shorten.

ENews is brought to you by our sponsors

Developing leaders in public policy
If you are a postgraduate Christian and considering a career in public policy, law, media or politics, then the Lachlan Macquarie Internship will provide you the intellectual foundation, essential networks, and formative vision required to effectively engage faith and culture.
The course is a 3-month intensive, living in academic community with a range of top lecturers and dinners with prominent Australians. Scholarships are provided for all successful applicants, and positions are now open for the Autumn 2015 intake.