25 September 2014

Solidarity Sunday is going to be an important and unique opportunity to raise awareness, unite and pray for the persecuted church.
More and more churches are registering to be a part of this important day of unity.
You can register your church to be a part of Solidarity Sunday at this website.
Also you can now buy ن T-Shirts for your church's event by clicking here.
The Arabic letter "ن" has been painted on the homes and businesses of Christians marking them for persecution.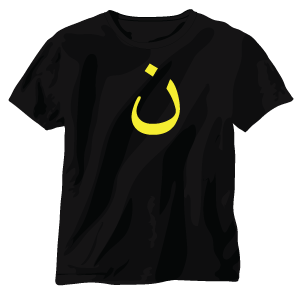 If you're a pastor or minister, you might consider giving these shirts to your congregation for a photo opportunity for local or social media to spread the word and raise awareness.
Please be praying for Solidarity Sunday. We are really hoping this will be an important day where people's eyes will be open to the plight of Christians and other religious and ethnic minorities around the world.
We are grateful that Solidarity Sunday is being supported by an ever-growing number of denominations and ministries including the Anglican Diocese of Sydney・Antiochian Orthodox Christian Archdiocese of Australia, New Zealand & the Philippines・Australian Christian Churches・Baptist Union of Australia・Catholic Archdiocese of Sydney・C3 Churches・Coptic Orthodox Diocese of Sydney & Affiliated Regions・Coptic Orthodox Diocese of Melbourne and Affiliated Regions・International Network of Churches・Life Ministry Centre・Lutheran Church of Australia・Presbyterian Church of Australia・Salvation Army (Eastern Territory)・Seventh Day Adventist Church・Syrian Orthodox Church・Open Doors Australia・Barnabas Fund・Christian Faith and Freedom・Voice of the Martyrs, and Australian Christian Lobby.

Countdown to ACL national conference – don't miss out
By Lyle Shelton
It is just one month to the ACL national conference.
This is our chance together to influence Australia's political conversation for good.
As Christians, we believe we have a responsibility to contribute to building a nation of character.

Napthine and Andrews pledge to allow conscience vote on forcing doctors to participate in abortion
Media Release
The Victorian Premier and Opposition Leader will allow a conscience vote if a private members' bill is introduced to restore freedom to doctors to decline to participate in abortion.

What Denis Napthine and Daniel Andrews told Christians
By Dan Flynn
On Tuesday night ACL hosted Make it Count, a pre-election event in Melbourne. We were privileged to have the Premier Denis Napthine and Opposition Leader Daniel Andrews address Christians on important social issues.

Raising local awareness about global persecution
By Daniel Simon
Lyle Shelton is the Managing Director of the Australian Christian Lobby. ACL is helping to organise Solidarity Sunday, an event which aims to raise awareness of the Islamic State's persecution of Christians in Iraq and Syria.

Senators should support ban on taxpayer funding of gender selection abortion
Media Release
Senator John Madigan's bill to ban Medicare funding of gender selection abortions should be supported, according to the Australian Christian Lobby.

"Be on our side and tell the world what is happening"
By Daniel Simon
Tom Carr is the General Manager of Voice of the Martyrs Australia. In this interview he talks about the day-to-day persecution faced by Christians under ISIS, the challenges for organisations getting aid on the ground, and how Christians in Australia can support their brothers and sisters suffering in Iraq and Syria.

Is legalising medical marijuana a good idea?
By Daniel Simon
Dr Stuart Reece is a physician and an expert in the effects of drug addiction. In this interview with ACL's Daniel Simon, he speaks about the issue of legalising marijuana for medicinal use, something which NSW Premier Mike Baird and Prime Minister Tony Abbott have supported in recent days.

Her chains are gone. Meriam speaks to Fox News.
By Laurenne Abdelmalak
Meriam Ibrahim, the Sudanese Christian woman who'd been sentenced to death for converting to Christianity, has spoken about her ordeal. In an interview with Fox News, Ms Ibrahim said she held on to the belief that God would rescue her.

Iraq: churches and govt agree…sort of
In this week's Politics In Focus, ACL's Managing Director Lyle Shelton comments on the groundswell of support for military action against Islamic State. But there's less agreement on how to support the thousands fleeing the conflict zones of Iraq and Syria.

Are you our next NSW Director?
We're seeking a full-time New South Wales Director after our long-serving NSW Director has taken on a new role in the organisation.
The New South Wales Director is tasked with achieving political effectiveness for the ACL within the state of New South Wales. This involves political influence and lobbying, relationship building, building of public credibility, representing ACL to various parties, and establishing/maintaining a strong supporter and financial base.

Sign petition for persecuted Christians
Urgent action is required to help the increasing number of persecuted Christians around the world. 'Christians Under Persecution' is urging Australians to email their MPs asking them to raise awareness of the plight of persecuted Christians through the G20 Summit and the UN Security Council. A petition is also available for you to sign.