Election guide now available
by Lyle Shelton
With just a week-and-a-half to voting day, our team is pleased to provide you with information we hope will help you cast an informed vote.
The federal election page on our website is now populated with resources everyone should peruse.
The major parties and a number of minor parties have now responded to our 26 questions. As other parties provide their answers, we will post them.
You will notice that our 26 questions are quite pointed. This is deliberate because we are looking for specific answers from the parties.
Nailing politicians down is one of the hardest things in modern democracy. I hope you will take the time to look at the parties' responses and use them to inform your vote in the House of Representatives and in the Senate.
Former Deputy Prime Minister John Anderson provides a warning to voters as they head to the polls to carefully consider the impact of their vote on maintaining male-female marriage as well as ensuring that children are not subject to contested gender ideology.
Both the Coalition and Opposition parties must commit to withdraw Medicare funding for abortions on viable babies currently being left to die, says the Australian Christian Lobby.
It is not 'homophobic' to believe that marriage is between one man and one woman and to wish to have the freedom to say this out loud, according to the Australian Christian Lobby.
The Australian Christian Lobby encourages its supporters to get behind a campaign to bring gambling reform to the national attention.
As part of the Alliance for Gambling Reform, the ACL has been advocating on behalf of Australians who realise the serious impact gambling has on individuals, their families and the community.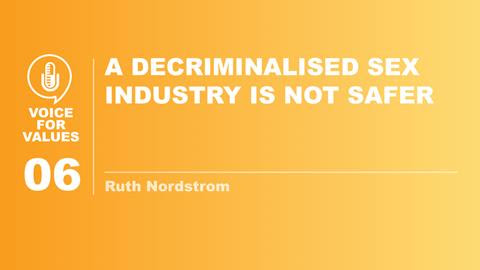 This week on Voice for Values, what is the link between human trafficking and prostitution?
Ruth Nordstrom is the President of the Scandinavian Human Rights Lawyers, and tells us how the Nordic model of prostitution reform is reducing the problems in Sweden, and how it could work here in Australia too.
The so-called 'Safe Schools' program tells minors that they need not hold back from undergoing sex-change surgery if that is what they feel like at the time, prompting the Australian Christian Lobby to question whether the Labor Party's policy to publicly fund sex-change operations would extend to children and teenagers.