17 July 2014

ACL has been one of many voices speaking out about the degrading Wicked Campers Slogans.
Whilst the apology overnight from the company is welcomed, the self-regulatory system of outdoor advertising is not working.
Penalties need to be introduced to prevent re-offending. Read our media release.
There has been a lot of media attention about same-sex marriage.
ACL's Managing Director Lyle Shelton says the debate is not as simple as it's portrayed. Read ACL's media release.
He's been picked up in The Australian and with a TV interview on SBS News. Check out the media wrap.
Remember, speak up for marriage between a man and a woman by signing the submission into the inquiry to recognise overseas same-sex marriages.
There's much more in ENews this week but don't forget to watch Lyle's end of financial year update.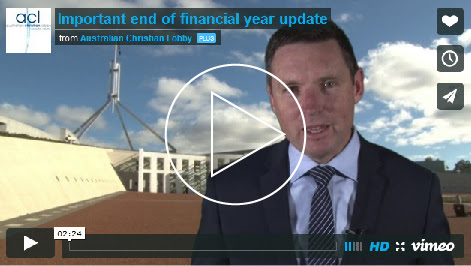 ACL Team

Wicked Campers apologises but harsher penalties needed to prevent re-offending

The Australian Christian Lobby has welcomed the public apology by Wicked Campers for its inappropriate slogans but says harsher penalties need to be introduced to prevent re-offending.


Indigenous recognition moves closer to referendum

By Lyle Shelton
Under the radar of the carbon tax repeal and the re-opening of the marriage debate, bi-partisan support for recognising indigenous people in the constitution was expressed in Parliament this week.
A joint select committee interim report was quietly tabled as part of what is dubbed a "national conversation".



A more nuanced debate about changing the definition of marriage is needed, according to the Australian Christian Lobby. Polling showing support for legislative change fails to ask people about the knock-on effects, ACL Managing Director Lyle Shelton said this week.


Submissions into inquiry about recognising foreign same-sex marriages closes soon

David Hutt works at the Australian Christian Lobby. In this interview with the ACL's Katherine Spackman he talks about the inquiry into recognising overseas same-sex marriages. Submissions close at the end of the month to the inquiry. People can sign a statement opposing the bill at preservingmarriage.acl.org.au


Catholic University Assoc Prof discusses euthanasia and the good life

Associate Professor Patrick McArdle is the Campus Dean at the Australian Catholic University in Canberra. In this interview with the ACL's Katherine Spackman he talks about euthanasia since the debate has re-emerged following news reports that euthanasia advocate, Dr Philip Nitschke, supported a 45 year old man's decision to commit suicide despite knowing he was not terminally ill.


New Director of St Mark's National Theological Centre talks about politics

Dr Andrew Cameron is the new Director of St Mark's National Theological Centre in Canberra. Dr Cameron has an interest in politics, ethics and public engagement and the ACL's Katherine Spackman caught up with him after his commissioning service to discuss the church's engagement with the state.



If you are in Western Australia, we are calling on you to help save a life. WA's abortion laws need urgent reform. In 1998 the law was changed to allow abortions after 20 weeks' gestation, but only in the rarest of circumstances. Now these laws are being abused and children are being aborted for non-life-threatening conditions like dwarfism, spina bifida, down syndrome and limb deformities. You can make a difference by emailing your MP and the Health Minister Kim Hames asking for WA's abortion laws to be reformed.


In the last week, the ACL has been quoted in the media on issues such as marriage, and outdoor advertising in relation to a recent Wicked Campers slogan.